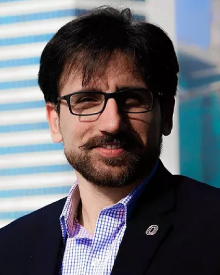 Sher Jan Ahmadzai, is the Director Center for Afghanistan Studies at the University of Nebraska at Omaha. He has worked with Afghan government before coming to the United States and served in an administrative position at Afghanistan Assistance Coordination Agency (AACA) then run by ex-President of Afghanistan, Dr. Mohammad Ashraf Ghani. He later served as the Scheduling Manager for President Hamid Karzai of Afghanistan. As Director for the Center for Afghanistan Studies, Mr. Ahmadzai, teaches a class titled "Geo-Politics of Central Asia and South Asia", oversees the Center's all academic, programmatic and administrative affairs, and leads higher education academic capacity building projects and initiatives in  Central Asia and South Asia (CASA), especially in Afghanistan, Pakistan, Uzbekistan, Kazakhstan, and co-leads a project in India.
Mr. Ahmadzai's work experience of more than 17 years in the United States and Afghanistan as a government employee at the office of the President has provided him with opportunities to understand the dynamics of the system of government and regional and global politics concerning Afghanistan and the United States in the region of South-Central Asia. Mr. Ahmadzai has also presented on the topics of, culture, governance, tribal and political dynamics of Afghanistan (and Pakistan).
Mr. Ahmadzai is a regular contributor and commentator for many national and international media outlets such as VOA and BBC Radio and TV on various issues related to the U.S. Pakistan, Taliban, security and terrorism and Taliban in South Asia. He has also written for CNN, BBC and Omaha World Herald on Afghan peace process. He has also participated in many rounds of U.S-Russian Track-II talks on counterterrorism, Afghanistan and regional security and provided feedback to policy makers. These numerous rounds of talks were facilitated on two different formats by EastWest Institute and before that by The Dartmouth Conference.
Mr. Ahmadzai has also written papers and co-authored a book on Transboundary Waters of Afghanistan focusing on hydro politics that is in play in the region and has written about Water Security and its socio-political impacts on the people in the region. His chapters are about the relationship of between Afghanistan and her neighbors concerning sharing water resources and how it can become a source of cooperation or conflict in the region. Mr. Ahmadzai also assisted with a desktop study of the "Afghanistan Conflict Assessment" for USAID and has worked with Chattam House –The Royal Institute of International Affairs on "Climate Fragility Risk Factsheet on Afghanistan. The factsheet was submitted to the United Nations Security Council in order to help the Council with understanding "the risk that climate represents for achieving sustaining peace in [Afghanistan]."